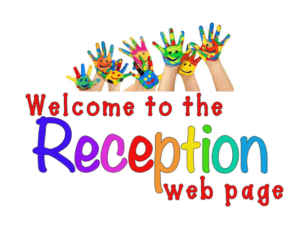 Within Reception you will find two classes they are called Busy Bees and Creative Caterpillars!
Please visit your child's year group page often to ensure that you do not miss any updates. We will be adding lots of important information and dates on to the Reception page to ensure you do not miss out on anything.
Home learning Menus:
Click here for the Summer 1 homework menu!
Homework Menu Summer 1

Please find some useful 'healthy lunchbox' links below!
Important Information:
Oral health is of great importance within the early years of life. Getting children into good habits is vital from a young age. Please see below information for more support on increasing oral health at home.
https://www.pacey.org.uk/working-in-childcare/spotlight-on/oral-health/
https://www.nhs.uk/live-well/healthy-body/taking-care-of-childrens-teeth/
Phonics
The following website has some resources to help you support your child with phonics at home.
https://www.littlewandlelettersandsounds.org.uk/resources/for-parents/
We also recommend any of the BBC Alphablocks resources. This term we are learning to read and write words using ai, ee, igh, oa, oo (food), oo (good), ar, or, ur, oa, oi, air, ear and er.
https://www.bbc.co.uk/cbeebies/shows/alphablocks
Remember to read your ebook on Collins ebooks.
Maths
This term reception are learning to make and compare numbers to 5. The children will learn all of the different ways of composing numbers. For example, 3 and 2 make 5. You can practise this at home by playing games.
Show the child an amount of objects (up to 5) before hiding some. Then ask the child to say how many are hiding.
Show the child an amount of objects and ask them to count them. Ask them how many more they will need to make an amount (up to 5).
We will also be comparing weights and capacities. Help your child to practise using the words heavy/light, heavier than/lighter than, heaviest/lightest, full, half full and empty. You can do this by comparing objects you have at home and by filling and emptying containers.
Communication
Text to Parent:
When sending a text to Reception we will start our messages with YR which refers to the whole reception cohort. This will hopefully cut out confusion if you have multiple children within the school.
If you receive a text with BB or CC at the beginning this has been sent only to your child's class.
Some parents who have the application for Text to Parents often miss out on messages. I will highly recommend that you delete the app so you will receive texts as normal to your phone.
You can reply to the text system as you would to a normal message
Class emails:
To ensure that communication remains at a high standard we are still contactable through our class email addresses. Please use the email addresses as you wish.
Busy Bees - homeworkbb.knp@cflptrust.co.uk
Creative Caterpillars - homeworkbb.knp@cflptrust.co.uk
If it is a message that is urgent i.e. change to collection plans then please contact the school office.
Reception 'Drop In':
If you wish to speak to your child's class teacher please use our 'Drop In' sessions. There is no need to book a slot just call 01782 973813
Busy Bees - Thursday 3:30pm-4:30pm
Creative Caterpillars - Thursday 3:30pm - 4:30pm
Gallery
Reception really enjoyed their visit to the Planetarium! We found out all about the solar system, the different planets and we even had a trip to the moon!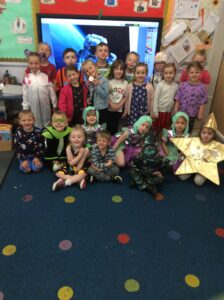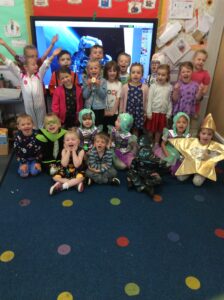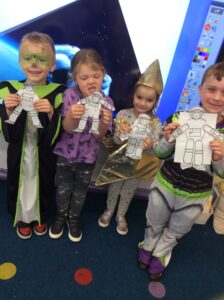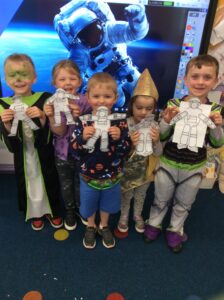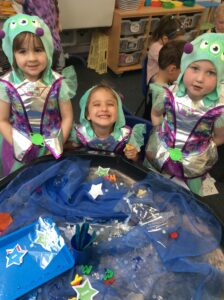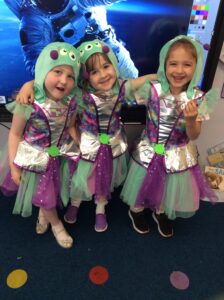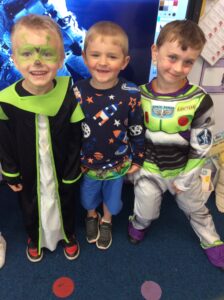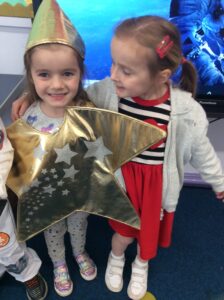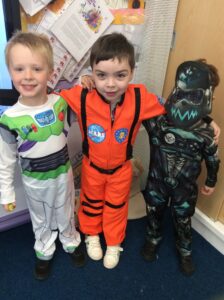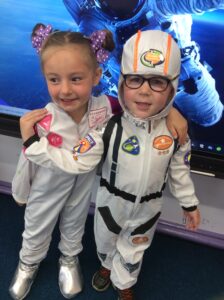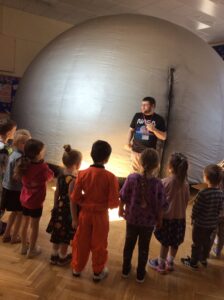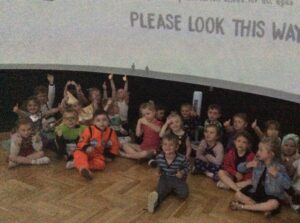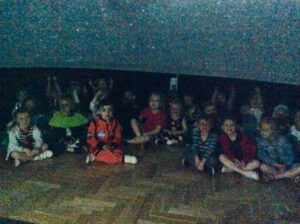 Reception have had a very busy week finding out all about the King's Coronation and we are enjoying the celebrations today!
Reception thoroughly enjoyed their parent engagement forest school session. Huge thank you to everyone that came! We hope you had fun!
Reception children are loving their Forest School sessions! We have been finding our all about the different seasons and we have been learning all about the plants and animals in our local environment. We've also discussed how to keep  ourselves safe outdoors when climbing or building and of course we have really enjoyed getting very, very muddy!
In the session  this week Mr Fox taught us all about fire safety and we made toast on an open fire. It was very yummy!